If you are a freelancer looking to start out your career or are already established in your niche, you probably work straight out of the comfort of your home. Or maybe you are following certain illustrious entrepreneurs, and have chosen the garage as your workspace.
Either way, you are already aware of the obvious benefits of such an arrangement. Working from home means you don't have to pay rent, nor do you have to go through a long commute to work, and you will have access to a comfortable and stress-free work environment. However, there are also certain disadvantages associated with it, including distractions at home, feelings of isolation, lack of discipline, etc.
If the above sounds relatable, maybe it is time to rethink the way you work. Maybe it is time to consider coworking, the latest workspace trend spreading across the world. This article highlights five of the obvious advantages you can get as a freelancer in a shared workspace.
Cost-effective :
If you are a freelancer or a startup, we do not need to explain budgetary constraints to you. So why are we suggesting you to rent a coworking space? With all the advantages of a shared workspace, the return on your investment over time will speak for itself.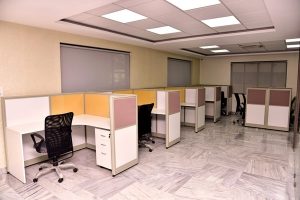 2.
Distraction-Free :
Working at home is inevitably associated with distractions. Be it household chores or noisy environment, distractions severely affect concentration, and leads to degradation in your work quality. Coworking affords you a private and distraction-free workspace where you can produce your best work, finish all of it, and then go out and enjoy the rest of your life. After all, proper work-life-balance is essential for everyone.
3. Productivity :
While usually unacknowledged, it is universally true that comfort is more attractive than work. At home, with unfettered access to your comfortable couch or bed, it might actually be difficult to motivate yourself to get up and work. Working in a shared workspace solves this problem in a unique way. It allows you to work comfortably, without letting comfort take over the work. Having other people working around in immediate vicinity also keeps you motivated and active.
4. Networking :
Having people working in the immediate vicinity is possibly the greatest advantage of a shared workspace, especially if you are a freelancer. You coworkers will include many different people coming from diverse backgrounds and specializing in diverse areas of work. Being in regular close contact with them will teach you many different skills that you may need to succeed in life, both professionally and personally. If you are a freelancer, coworking also allow you to pitch your products or services to many different people at one go. This way, you have access to a huge potential customer base right at your fingertips.
5. Routine :
A fixed disciplined work routine needs to be maintained for optimum productivity. Self-discipline is all the more important for freelancers since you are your own boss. Working in a coworking space will inevitably help you to establish a work routine that will, in turn, let you reach utmost productivity quickly and efficiently.
So here were only five ways how you, as a freelancer, can benefit immensely from working out of a shared workspace. It is simply better than working from your home. Or garage.